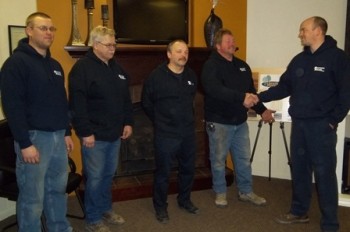 Manitowoc, WI  2/14/2012  Bill Jindra has reached an agreement with Terry Welnicke from Manitowoc Heating and Refrigeration Services, Inc to purchase Jindra Plumbing and Heating, Inc.  The plumbing portion of the business was sold to Maritime Plumbing & Mechanical, Inc.
Jindra Plumbing and Heating, Inc was started 1955 by Roy Jindra.  Bill took over the business from his father in 1987.    Bill Jindra commented, "Although it isn't time for me to retire yet, it was important to me to have a plan in place to take care of our many wonderful customers.  Most furnace warranties are 5 or 10 years with lifetime heat exchanger warranties.  That's well beyond my retirement age.  When I looked to the future of the business, Terry Welnicke and the employees at Manitowoc Heating immediately came to mind"
Terry Welnicke, President of Manitowoc Heating and Refrigeration Services, Inc. added, "Many of the Jindra employees will join us at Manitowoc Heating.  This will add to our service and installation staff, enhancing our ability to provide the best service to all of our customers.  We won the "Best of Manitowoc County" for the past 3 years and we work hard every day to maintain that level of service and trust for all of our customers."
"We're planning on a seamless transition for the customers of Jindra Plumbing and Heating, said  Joy Dueno, Business Manager.  "When a Jindra customer calls the Jindra
Plumbing and Heating phone number, it will be answered by Manitowoc Heating.   We'll be able to access their prior service records, warranty information, and equipment list.  They will be pleasantly surprised with our affordable pricing."
Terry and his wife, Dawn, started their business in the year 2000 to provide better customer service at reasonable prices.  Their goal was to build a customer base that
would retain clients by providing excellent service, affordable prices, and dependable products with a hometown trust.
Manitowoc Heating and Refrigeration Services, Inc repairs all makes and models of heating, air conditioning and commercial refrigeration products.  They currently provide products for installation from many major manufacturers for your air
conditioning, heating, fireplace, pellet stove, indoor air quality and commercial refrigeration equipment needs. Manitowoc Heating has residential, commercial and industrial clients throughout Manitowoc County.